Filmography:
Jimmmy Trips Videos
Model Names / Studio
Born: 1985
Home state: New York
Height: 5 ft 10 in
Weight: 170 lbs.
Shoe Size: 11.5"
Filmography:
His Movies
Watch Jimmy Trips Now
Trips the Light Fantastic
Jimmy Trips began his work as a model for Michael Lucas' NYC-based
Lucas Entertainment
films. With his easy going demeanor, and great big cock, he supplies the need for sexy, skilled tops to take on the bottoms in Lucas' movies. Watching Trips in action is always great. This upstate New York "regular dude" effortlessly paints him masculinity on the screen, in wonder over the use of the dick and always happy to step up to the plate for the pitch.
The Lucas Entertainment website is lists Trips' official occupation as house painter. How blue collar! What is it with blue collar guys from New York? Just because they know how to use a wrench or a hammer, they also know how to pound their nine inch uncut nail into asses too?
Daily Movie Preview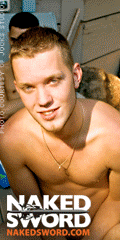 Trips should be familiar to fans of the
Michael Lucas Auditions
movie series. This interview series is one of the best, consistent things going happening in gay porn. In these movies, director Lucas has effectively mastered combining the model interview with a very hot sex scene. Often these informal chats are the best peeks into the actual lives of the porn stars.
Trips appears on the DVD box cover of Michael Lucas' Auditions 19, where he screws buoyant Spaniard bottom Christian Cruz.
Both models later went on to appear in the studio's 2007 comic hit The Intern, although not together. Trips and stud muffin Zack Randall play warehouse workmen, busy unloading boxes of Spanish Fly when they inadvertently catch a whiff.
Randall subsequently went on to become a big star, so watching him in this early reaming from Trips is extra special. For Lucas, this movie is an unusually light-hearted, comic porno, where he really caught lightening in a bottle.
Trips also appears in several other Auditions movies. In Michael Lucas' Auditions 21, he fucks a twink named Colin. He debut's in Auditions 8, where he apparently performs an introductory solo, and later on in Auditions 10 he gets his dick sucked by Corey Cade.
When TLAvideo offers these DVDs on sale, they are always worth buying. Or, you can watch the entire Auditions series as a member of LucasEntertainment.com.
Trips moved from the Auditions set to appear in the studio's arousing series about lusty sexual hook-ups: Encounters, which was helmed by director Tony DiMarco. The hottest element of this film series was the continuing theme of seduction. In Encounters 5: Burning Desire, Nicholas Lockwood brings Trips home to his dad's place. They have a drink and after watching some straight porn, Trips decides that it's time to hammer some hole.
| | |
| --- | --- |
| Encounters 5: Burning Desire | The Intern with Zack Randall |
Trips appears in the studio's major 2007 release
Michael Lucas' Gigolo
, a grand film that swept that year's awards season in all the major categories. The movie delves into the New York City underworld of hookers. Trips appears in the bonus episode of the DVD here, fucking Anthony Marks & Erik Grant on top of a pool table. This two disc movie blazed new ground fusing porn with first class movie making.
Another good movie is Pounding the Pavement, where we return to a spontaneous sex hook-up that borders on stalking. Here Trips gets targeted by bisexual animal Wolf Hudson, who describes on-screen about how he snags him off the street in the East Village.
In the bedroom, Trips takes the occasion to lube up Hudson's hole and pound it with his big uncut cock. Some of our favorite themes in Lucas' films are the wild depictions of New York City life, and Trips fits right in with these guys.
Trips seems to have very good luck in appearing in blockbuster films. After DiMarco moved cross-country to direct for Raging Stallion Studios, he cast Trips in their Western epic To The Last Man. This is Trips' only Raging Stallion film. Here, a more mature-looking Trips is a ranch hand who fucks muscle-bear Rick Powers' all over the barn.
Trips has never moved into the realm of big time porn stars. However, he makes a big impression on many in Michael Lucas' New York City operation. Jimmy Trips is your good natured New Yorker who really knows how to use his dick.
-FriskyBoy
Trips tops Rick Powers in
To The Last Man
if( !empty($_GET['page']) ) $page = $_GET['page']; else $page = 1; showMoviesForActor( $actor, $thispage, $page ); ?>