Tony Donovan
Birthdate

Mar-29-1979
in Los Banos, CA

Nationality

American

Ethnicity

Circumcised

Uncut

Height

5' 9"

Hair Color

Brown

Eye Color

Aliases

None
Adventure Time with Jake
Published by
desslocktx
on
Jan-19-2015
Tony Donovan exploded onto the scene with enthusiasm in 1999. Many were awed by his boyish good looks, his tall figure and unquestionably with the humongous hose between his legs. Tony's first action video was Kevin Clarke's
Something Very Big
. In this chicken-fest Donovan tops the bubble-butted Tony Cummings, while being watched by Dean O'Connor.
Tony likes older, masculine guys. "I like older, more mature people, " he said in a 1999 interview. "My boyfriend is thirty-eight. It's a respect thing. He has experience. Younger guys, they don't know. It's hard to explain."
The boyfriend of whom he speaks here is pornstar Dennis Lincoln. Our favorite Dennis Lincoln film that we've seen is where he shares Stonie's ass with Jeremy Tucker in the last scene of Latin Heat Inn Exile. Donovan and Lincoln have a good, albeit brief, duet in the movie Technical Ecstasy.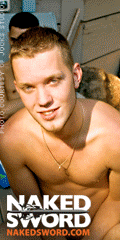 Donovan also appeared in the popular
Ryker's Revenge
, where hangs ten in the shower with other enormously endowed models Zachary Scott and Chad Donovan.
Two of Donovan's popular movies are Dream Team and Echoes. These movies have substantially larger roles for him, and he also displays a good bit of acting. [Dream Team is now available for online viewing, too]
Does Tony ever bottom? Donovan gives it up to real-life boyfriend Dennis Lincoln in Technical Ecstasy. Other then that he's only seen ponding away on his partners.
He also appeared in a few solo tapes. Needless to say, Donovan fits right in with the crowd on Monsters and Size Queens. This is a hot little film. It is a little low on production values, but the models are all great. Donovan looks like he's 18 years old in this one.
Tony Donovan Filmography:
Episodes:
| Episode Name | Studio | Release Date | Appears As | Watch |
| --- | --- | --- | --- | --- |
Have something to add? Share it in the comments.
comments powered by

Disqus